Industrial Gland Packings
INDUSTRIAL GLAND PACKINGS
Flexiteck UK
Style : GP

To achieve zero leakage between a moving member and a relatively stationary part, a wide range of seals and rings are employed. However, the most common, least expensive and versatile in nature is the Gland Packing. Gland Packing provides a dynamic seal for a rod, shaft or stem via a housing or gland which is packed with resilient or semi-resilient material, thus providing a localised contact area which offers a physical barrier to leakage.

Asbestos Packing (type : 10)
Asbestos Graphite Packing (type : 20)
Asb.Graphite Wire Reinforced Packing (type : 20W)
Glass Graphite wire reinforced Packing (type : 25W)
Carbon Fiber Inconel Wire Packing (type : 30W)
Carbon Fiber Packing (type : 30)
PTFE Graphite Packing (type : 40)
Thermoset PTFE Packing (type : 35)
Aramid Graphite Packing (type : 55)
Asbestos PTFE Packing (type : 50)
Aramid PTFE Inconel Wire Packing (type : 60W)
Aramid PTFE Packing (type : 60)
Aramid PTFE Graphite packing (type : 70)
KYNOL PTFE Braided Packing (type : 65)
PTFE Acrylic Packing (type : 77)
PTFE Cotton Packing (type : 75)
Aramid Fibre Packing (type : 85)
PTFE Packing (type : 80)
PTFE Ramie Packing (type : 90)
Tank Cover Packing (type : 95)
Grease Cotton Braided Packing (Type: 115)

---



Type : 10
Asbestos Braided Packing

A cover-on-cover braided packing made from chrysotile asbestos yarn Each cover is specially treated with a compound which offers resistance to oil in hot and cold conditions.
Application : Specially recommended for high pressure super heated steam, valves, turbines, glands, etc., where abrasive and viscous liquids are not likely to adversely affect the wire reinforced.



Recommended
Temperature : (-50C to 515)
Pressure : 500 Bar
PH : 2 ~ 14
Shaft Speed : up to 8m/sec.
Max. PV Value 200kgf/cm2-m/sec.
Sizes range :3mm to 40mm SQ non standard size is available upon request
Length range :as per request
---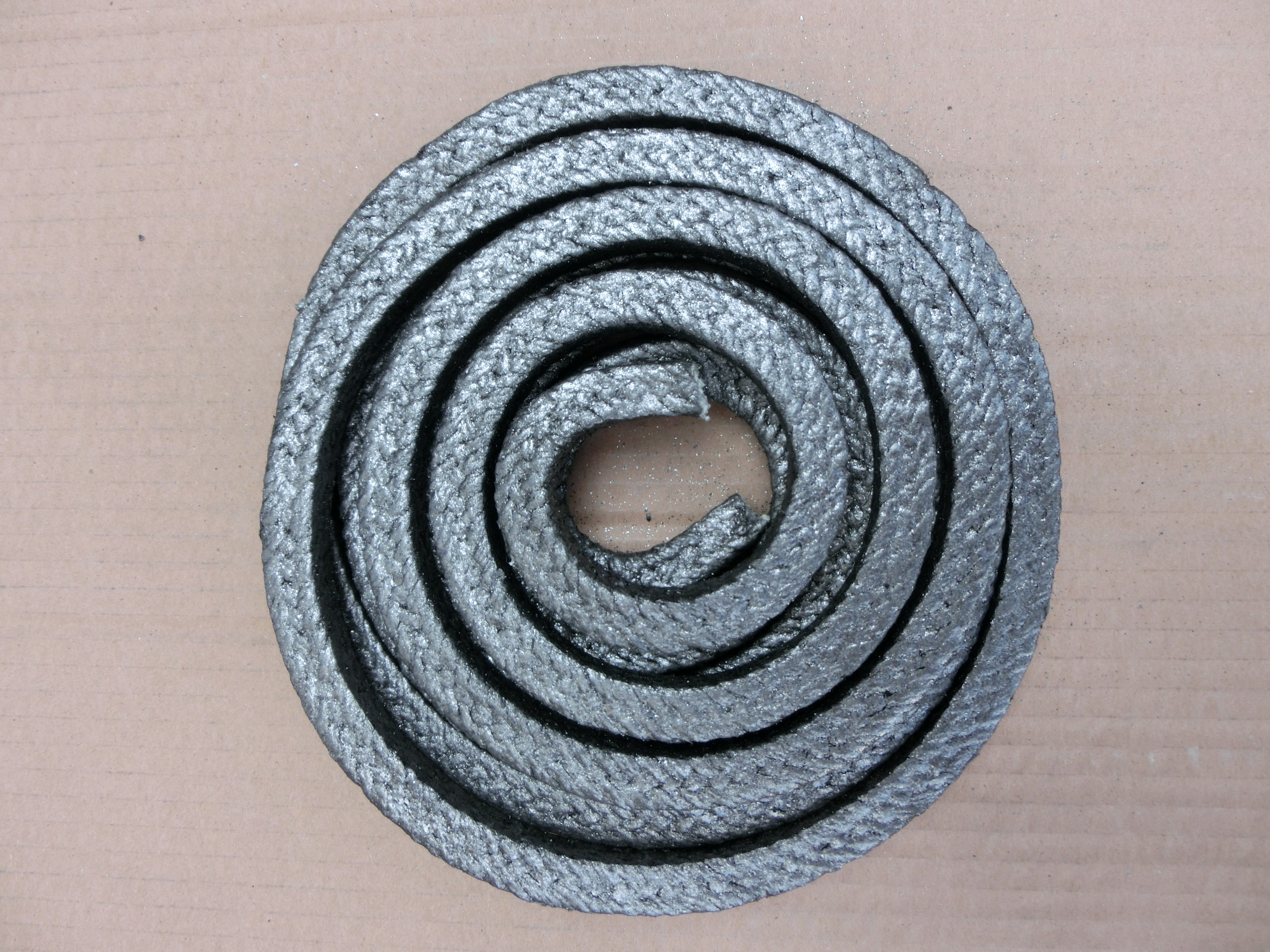 Asbestos Graphite Packing
Type : 20

It consists of chrysotile asbestos fibre yarns, treated with oil-resistant lubricating oil and graphite braided into square cross section. It has excellent sealing ability due to its flexibility and strong resistancs to all. Seal of rotary , reciprocating shaft, valve stem in supper heated steam.

Recommended
Temperature :300 C
Pressure 150 Bar
PH :4 ~ 10

Sizes range :3mm to 40mm SQ non standard size is available upon request

Length range : as per request

For exceptional performance, die formed packing is recommended
---



Asbestos Graphite packing
With inconel wire Type : 20W

It consists of molded core asbestos fibre, treated with oil-resistant lubricating oil and graphite with inconel wire inserted braided into square cross section. It has excellent sealing ability due to its flexibilityand strong resistances to all.
To seal : Steam, Hot water, Hot oil, Petroleum, Hydrocarbon, Chemicals, Solvents, etc.

Recommended
Temperature :up to 650 C
Pressure : up to 440kgf/cm2
PH : 4 ~ 14

Sizes range :3mm to 40mm SQ non standard size is available upon request

Length range : as per request

For exceptional performance, die formed packing is recommended
---


Non Asbestos Packing
Type : 30
Pure Graphite Braided Packing

It consists of pure graphite fibre yarns, braided into square cross section. It is chemically inert and suitable for high temperature, high speed, high pressure enviroments requiring the anti-acidity. Because it dissipates will the heat during the operation and maintains smooth surface without a sleeve abrasion due to its good lubrication mature, it is an almighty packing to solve completely all the problems in the conventional packing. The residuals of soluble chlorine included in the products are less than 18ppm which is less than the specification required in the nuclear power plant, making it suitable for use as a sealant of high-price equipments in the nuclear power plant.

Recommended
Temperature : (-200C to 3,000)
Pressure : 200 Bar
PH : 0 - 14
Shaft Speed : up to 10m/sec.
Sizes range :3mm to 40mm SQ non standard size is available upon request

Length range : as per request

For exceptional performance, die formed packing is recommended

---


Non Asbestos Packing
Type : 30W
Pure Graphite Braided Packing
Inconel Wire Reinforced Is a specially developed packing made from carbon yarn reinforced with special quality inconel wire. Its inherent chemical stability, high thermal conductivity and low friction co-efficient makes it ideally suited to sealing applications involving high temperatured and pressures.

Services :
The highly carbonised structure with metal reinfordement makes this packing suitable for high performance of superheated high temperature & pressure stream valves including main stop valves, control valves, etc.

Recommended
Temperature : (-200C to 3000C)
Pressure : up to 700 Bar
PH : 1 to 12

Sizes range :3mm to 40mm SQ non standard size is available upon request

Length range : as per request

For exceptional performance, die formed packing is recommended

---


Non Asbestos Packing
Type : 40
PTFE Carbon Packing
Is made from pure carbon fiber impregnated with PTFE dispersion, braided into square cross section and lubricated. Inert to almost all corrosive chemicals. When used for pumps, frictional heat is freely conducted to the stuffing box metal because of its excellent thermal conductivity and thus does not cause damage to the packing.

Recommended
Temperature :up to 260C
Pressure : up to 20kgf/cm2
PH : 0 - 14
Shaft Speed :up to 16m/sec.
Max. PV Value :165kgf/cm2'm/sec.
Sizes range :3mm to 40mm SQ non standard size is available upon request
Length range : as per request

For exceptional performance, die formed packing is recommended

---


Type : 50
PTFE Asbestos Braided Packing

Good quality asbestos yarns are impregnated with PTFE dispersion and inrerlock braided into a packing, especially suitable for large rotary shaft of mechanic forces.

Application :
Suitable for acids(except hot fluoro acid), alkali, solvents, rotary machine, reciprocating machine, valves.

Recommended
Temperature : (-200 ~ +300 deg. C)
Pressure : up to 100kgf/cm2
PH : 2 ~ 14
Shaft Speed : 5m/sec.
Density : 1.30g/cm3
Sizes range : 3mm to 40mm SQ non standard size is available upon request
Length range : as per request

---


Type : 50W
PTFE Asbestos Wire Braided Packing

Good quality asbestos yarns are impregnated with PTFE dispersion and inrerlock braided into a packing, and SS wire reinforced , especially suitable for large rotary shaft of mechanic forces.

Application :Suitable for acids(except hot fluoro acid), alkali, solvents, rotary machine, reciprocating machine, valves.

Recommended
Temperature :(-200 ~ +300 deg. C)
Pressure : up to 100kgf/cm2
PH : 2 ~ 14
Shaft Speed : 5m/sec.
Density : 1.30g/cm3
Sizes range : 3mm to 40mm SQ non standard size is available upon request
Length range : as per request

---


Non Asbestos Packing
Type : 55
Aramid Graphite Braided Packing

It consists of pure graphite fibre yarns and aramid braided into square cross section. It is chemically inert and suitable for high temperature, high speed, high pressure enviroments requiring the anti acidity. Because it dissipates will the heat during the operation and maintains smooth surface without a sleeve abrasion due to its good lubrication mature, it is an almighty packing to solve completely all the problems in the conventional packing. The residuals of soluble chlorine included in the products are less than 18ppm which is less than the specification required in the nuclear power plant, making it suitable for use as a sealant of high-price equipments in the nuclear power plant.

Recommended
Temperature :(-200C to 3,000)
Pressure : 200 Bar
PH : 0 - 14
Shaft Speed :up to 10m/sec.
Sizes range :3mm to 40mm SQ non standard size is available upon request

Length range : as per request

For exceptional performance, die formed packing is recommended

We specialises in providing quality products for the Oil and Gas, Chemical and Petrochemical, Power, Offshore and Shipping Industries.
---



Non Asbestos Packing
Type : 70
Aramid Kevlar PTFE Graphite Fibre Packing
This packing is plaited from multi-filament yarms high strength aromatic aramid in the corner strands & PTFE/graphite on the seam strands. This is made possible by using the "Crossplait "
construction. Positioning the high strength fibre at the corners gives maximum resistance to extrusion and also provided good water resisting properties at the critical point within the gland. The graphite/PTFE yarn on the sides of the packing improves themal conductivity, permitting rapid heat transfer from the shaft which gives cooler running. The combination of aramid/PTFE/graphite fibre offers the best compromise for applications with fluids containing solids, such as abrasive particles or fibres in suspension.


Recommended
Temperature :up to 300C
Pressure : 350 Bar
PH : 1 ~ 14
Shaft Speed :up to 25m/sec.

Sizes range :3mm to 40mm SQ non standard size is available upon request
Length range : as per request


---


Non Asbestos Packing
Style : 88
Kevlar Graphite Braided Packing

It consists of pure graphite fibre yarns, impregnated Kevlar & braided into square cross section. It's chemically inert and suitable for high temperature, high speed, high pressure enviroments requiring the anti-acidity. Because it dissipates will the heat during the operation and maintains smooth surface without a sleeve abrasion due to its good lubrication mature, it is an almighty packing to solve completely all the problems in the conventional packing. The residuals of soluble chlorine included in the products are less than 18ppm which is less than the specification required in the nuclear power plant, making it suitable for use as a sealant of high-price equipments in the nuclear power plant.

Recommended
Temperature :(-200C to 3,000)
Pressure : 200 Bar
PH : 0 - 14
Shaft Speed : up to 10m/sec.
Sizes range :3mm to 40mm SQ non standard size is available upon request

Length range : as per request

For exceptional performance, die formed packing is recommended